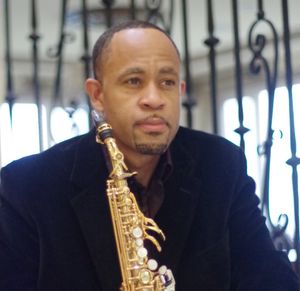 "When I'm creating music, my soul speaks sounds that cannot be expressed in words".

A native of Cincinnati, Ohio, Peter "2Saxy" Jordan was exposed to music at an early age by his mother, a gospel pianist and father, a Baptist preacher. Unable to afford a working instrument, Peter participated in school-sponsored music class using a pencil to learn the fundamental fingerings of a saxophone. He was the only child in the class who didn't have an instrument. Not deterred by his humble beginnings, his persistence paid off three years later when a dream came true and he received his first working saxophone obtained by his mother from a yard sale. Peter spent countless hours learning to play the instrument he longed to possess for years.

In high school, his raw genius was recognized by the band instructor who took him under his tutelage. Before long, Peter auditioned for and was accepted into one of the most competitive jazz ensembles and symphonic bands in the southwest Ohio region. He went on to eventually represent his school in the Southwest Ohio High School Jazz Festival sponsored by the University of Miami at Ohio where he won Best Soloist, Best Instrumentalist and Best All-Around, beating out more than 300 other competitors from around the state.

By the age of 16, Peter started his professional music career and performed at local church services. Upon graduation from high school, he was given the opportunity to meet the late famed jazz trumpeter Dizzy Gillespie and received the highly sought-after Jamey Aebersold Jazz scholarship to study music at the collegiate level.  However, despite his clear musical gift, Peter's parents where insistent that he pursue a college major offering more predictable employment opportunities upon graduation. Not one to go against his parents who had given so much to support his success, he passed on the prestigious music scholarship and instead pursued pre-med studies in college. But he also continued to perform professionally at every available opportunity.

Once Peter completed his studies, he moved to Baltimore, Maryland where he began to perform around town and in Washington, DC including the world famous Blues Alley.  It didn't take long before his talent was recognized by industry insiders and he began to tour regularly with R&B legends Ben E. King, Archie Bell, Percy Sledge, Bill Pinckney & the Original Drifters and numerous others. No longer an unknown performer, his exposure and favor with such renowned artists in the entertainment industry would lead him eventually to tour worldwide for more than a decade with another legendary group - the multi-platinum R&B funk band Heatwave who released iconic hits "Always and Forever", "Boogie Nights", "Groove Line" and "Mind Blowin' Decisions".

Initially too shy to step to the front of the stage from the band section, Peter quickly honed his showmanship and confidence as he commanded standing ovations for his sexy sax and flute solos travelling the globe with Heatwave and appearing in shows with the Manhattans, The Dells, Evelyn 'Champagne' King, Major Harris, Sister Sledge, Michael McDonald, The Whispers, Rose Royce, The Delfonics, The Stylistics, The Emotions, and many others. In 2000, he was featured on television as a soloist when Heatwave performed on "Motown Live: Superstars of Seventies Live", the PBS Special hosted by Patti Labelle and the late Isaac Hayes.   Not limited to any genre of music, as a smooth jazz artist, Peter also has opened at major venues for contemporary jazz favorites Chris Botti and Brian Culbertson.   In 2013, he had the honor of performing on Capitol Hill following the U.S. Presidential Proclamation honoring legendary Buffalo Soldier Colonel Charles Young.

A true artist, performer and technician, Peter is a gifted composer. His original music has been featured on the daytime soap opera "Days of Our Lives", the Emmy-award winning talk/comedy "Saturday Night Live", and the Warner Bros. animated TV series "Batman Beyond".  

Proud endorser of Theo Wanne mouthpieces.